Domestic goddess Nigella Lawson had a slow rise to the top. The first time she came to North America she wasn't even acknowledged. When everyone fell in love with Jamie Oliver she tried again. And she stuck like a good toffee.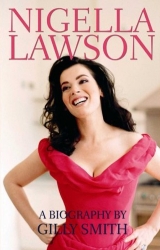 Beyond the odd cooking appearance I never really knew much about her so I was intrigued when I heard about Gilly Smith's biography. Smith has sorted through video footage, food columns, fashion articles, cookbooks and reviews to organize information about the cooking diva and her life.
My initial feeling was there wasn't enough about Nigella the woman, as she is now. We all look back on our lives differently at different stages of our lives and Nigella, 44, I imagine would have a different perspective on how she's lived since she first wrote her books and food columns.
The biography is divided into seventeen chapters and includes background on where Nigella grew up, her boarding school experience, her posh parents, her marriage to John Diamond (an award-winning broadcast journalist) and their children. Her career is highlighted from her early journalist days to her television shows and books; as well as her slow decline in popularity in the UK and her sudden birth of popularity in the U.S. Ending around 2005.
The first chapter opens with Nigella's parents and a brief history about their likes and dislikes and personalities in relation to Nigella. She gets her stunning looks from her mother.
Nigella's personal life is quite tragic, having lost her mother to cancer when she was a child, then her sister and then her husband. She even had the fear of losing her agent Ed Victor when he developed leukemia. Dealing with a loss of one loved to cancer is hard enough, I can't imagine loosing so many and still managing to come across as a happy well-connected successful woman and mother. Despite losing her mother at such an early age she maintained a connection with her through cooking.
This biography was difficult to get into initially because it is delivered from a UK perspective with a lot of name dropping that means nothing to anyone over here not in the journalist or food business. The constant referencing slows things down and is really quite boring. I enjoyed getting to know Nigella but most of what I read was quoted or said by someone else and I felt throughout like I was missing something. Even the black and white pictures seemed to be from old stock footage, nothing personal.
At times it almost felt that Smith doesn't care much for Nigella. Her bias is reflected in her tone when she talks about Nigella's reflection of John's death and coming home to find his last words on the screen. "We all know that in reality the screensaver would have clicked in by that time". This annoyed me. "In reality," it's possible he didn't have a screensaver. At other times it's almost like she'd forgotten she was writing a book about Nigella, going off on a tangent; like when she discusses Nigel's (Nigella's father) job or goes on about a publisher. Or when she wanders off with Rachel Ray.
A very different picture is painted of the Nigella her fans know and love. Despite this, Nigella comes across as a woman inspired by the intricacies of food with a compelling need to share them with whoever will read, watch and listen. She's easy to fall in love with.
I was looking forward to this glimpse into Nigella's life but was disappointed by the author's interpretation through columns, articles, interviews (none of which she did), cookbooks and videos. I did learn a lot about Nigella. But I think Nigella, a journalist in her own right, could have done a better job.
Barricade Books, 2006
Purchase Nigella Lawson a Biography from Amazon.com
Purchase Nigella Lawson a Biography from Amazon.ca
Originally published 10/4/2007 at Large & Lovely, BellaOnline.