Making It Big (MIB) has been around for many years. When they started out their clothing was what I would call boxy but the last few years they upped their game and started bringing things in in the right places for a more tailored look. Their new spring line of tops is a bit iffy, though. The cuts are good but some of the pattern choices are not, they are something I would expect for a different price point. That being said, MIB is not without merit as I did find two tops I really like.
The plus size Lola Crossover Top with cross hatch pattern is available in sizes 3x to 7x for $99:
The plus size Milan Tunic is a nice mixture of patterns and solids available in sizes 3x to 7x for $95: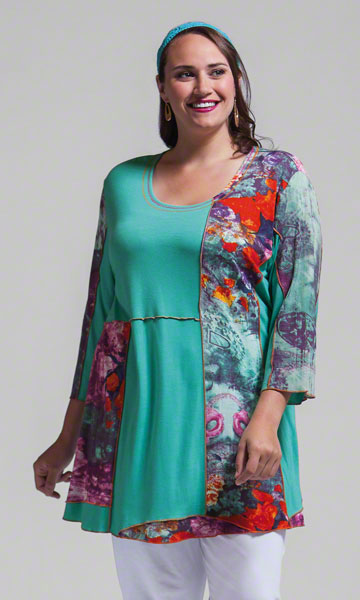 As you can see the sizes at MIB are unique, one of the reasons I love them is because they offer a higher size range for a market of women that are often ignored by retailers. Have a look and maybe you will find a gem or two that speaks to you.
***
Topic Links
* Get your plus size tops from MIB