This post has been a work in progress for a few months. This summer I put on the absolutely gorgeous Evie nail polish from Julep. It was one of my better manicures, if I do say so myself, and being such a bright color I was impressed with my lines.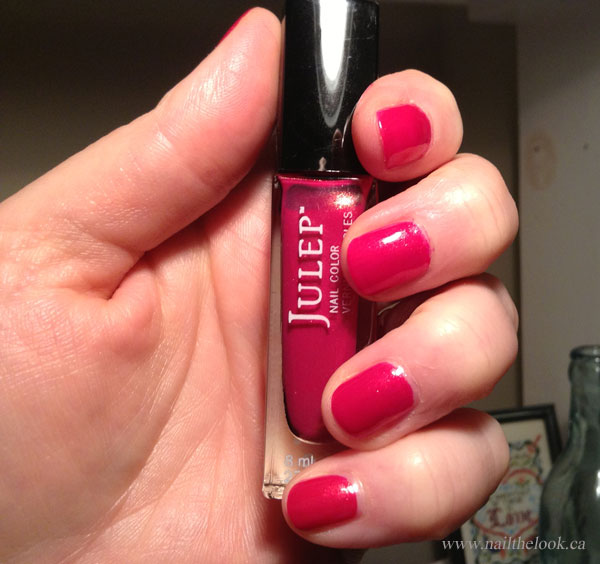 I decided to top it off with Julep's Rock Candy glaze called Marie. It gave a slightly different hue but was otherwise still gorgeous.
I watched a bit of TV, and before I knew it was an 90 minutes later. I was getting ready for bed and looked down to see that my nails were ruined. RUINED! They were still incredibly soft right down to the nail. HORROR! I had run my fingers through my hair, among other things before I realized the polish was smushed all up the nail. I could literally rub it all off at this point. And I did. I cleaned up the rest of the mess and went to bed.
I decided I would try the lovely red again the next day as I was sure it was the Marie Rock Candy that was the culprit. I was all ready to put it in the hazardous waste collection pile. The next day I happily put on the awesome red Evie followed by a regular topcoat — guess what? It was still all playdoh mushy over an hour later. Turns out it was not the Rock Candy after all.
After a day off I gave up on red and applied Marie on top of base coat for two layers. It is a very natural base and it dried all normal like.
Not sure what happened with the Evie as I have never experienced that before. I talked with a beauty specialist at the drug store and she suggested using quick dry drops (I tend not to use them because I don't usually have a problem). This week I tried Evie again but this time used quick dry drops after each coat (two). The polish did dry a lot better than the first two attempts but I still ended up with three slightly smushed imprints on my right hand — but nothing like the originally horror I experienced. It really is too bad because it is such an awesome color.
You ever have a polish that does not seem to dry?
***
Topic Links
* Become a Julep Maven!