It has been a rough couple weeks nail/cuticle wise. I reverted into some bad habits for a short time but I think I have come out of the gloom and have them back under control. I decided to celebrate with a fresh coat of nail polish from my "haven't tried yet" stash box — yes it is a real box. I actually call it my "to-do" nail polish box and it comes before my "to-do nail polish shelf. It is sad but exciting at the same time, at least for me it is.
I decided to go with the neutral Lois which came in one of my Mystery Boxes I purchased last year from Julep. I would normally not choose a color like this for myself and when I took it out of the box I was like, "Meh". But having actually put it on I've decided I love it.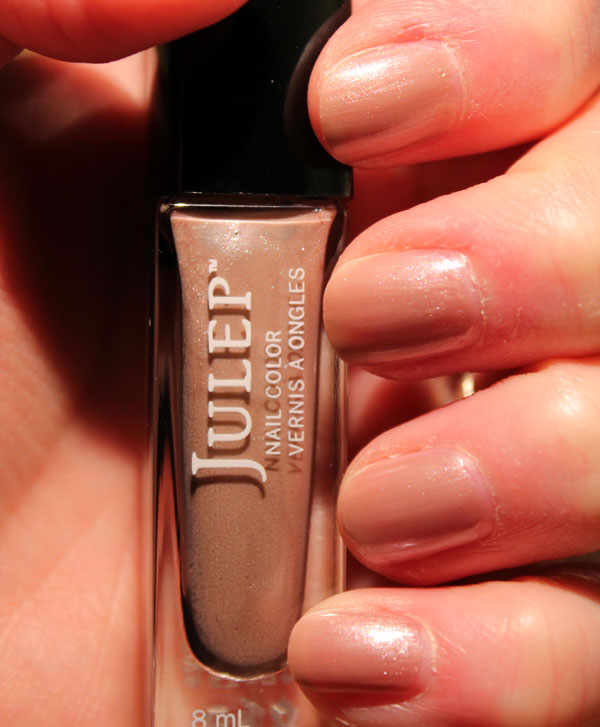 Lois is a dusty rose frost and has a nice finish. I was quite happy with one coat which was slightly sheer with a fine sparkle, but I did two coats because I always find it more durable and I am a week bit opaque obsessed.
My plan was just to wear the one polish but the Cuccio Remix glitter I got in my Top Box was screaming to be used as an accent so I applied two coats of that to my ring fingers and thumbs.
As you can see the color is slightly different under natural light — it's a little rosier. I just love all the different colors (pink, green, blue, silver) and sizes (fine to medium grade) of glitter in the Cuccio Remix. It goes on really nice too without having to work the glitter placement.
I took a quick trip over to Julep's website and they still have the Lois nail polish available and it is on sale for $3.99.
***
Topic Links
* Get your Lois nail polish from Julep