Nail Polish Canada (NPC) sent me a Bundle Monster Halloween nail stamp to try. This is my first experience with actual nail stamping. I bought a mini kit a while ago but haven't gotten the chance to test it out. Since NPC only sent the plate I used the stamper and scraper from my other kit.
I have to say. The whole process took me longer than I thought it would and the results were very poor.
Nail Stamp Attempt #1 — My excitement was pretty high. I decided to play with a few colors (they just happen to all be Julep) to see what kind of results I would get. I thought black, white, and fiona green were pretty much Halloween standards.
First up was measuring the designs with my fingers which surprisingly had a limited fit.
As was my thumb. I never really considered my fingers especially small but according to the designs on this plate… my fingers are dainty.
As you can see, my first attempt was less than stellar other than the forefinger design (no idea what it is — bloody eyeball??). Part of the three pumpkins worked but it was too wide for my fingers. Overall, I think I prefer the black on white designs. The white on black would have been nice but I didn't have enough polish (and it doesn't fit my thumb).
Nail Stamp Attempt #2 — With this attempt I stayed with the white and black.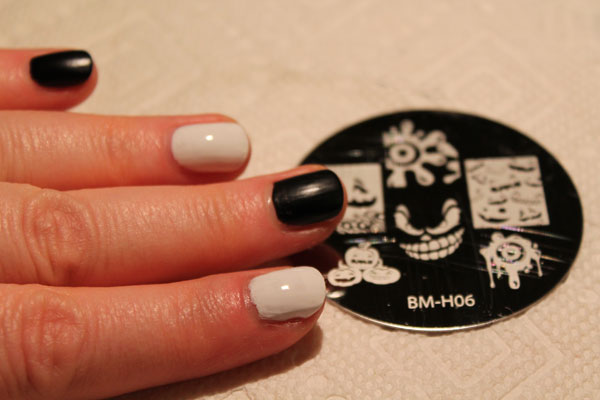 Again, unless it is a bright thick white, it doesn't show up on black. I tried a bright orange and a bright red. The bright red however looks awesome on the white — again the same stamp worked.
Nail Stamp Attempt #3 — With this attempt I kept the black and white and swapped in the bright red for a base color. My work space was starting to get messy at this point and the novelty was wearing off a bit.
The results were a little better. The red definitely looks nice on white (not surprised) and white on black is interesting too. Black on red didn't work as well as I thought it would.
Nail Stamp Attempt #4 — Finally I decided to do away with color as a base and went to white. And red for stamping. I was so tired at this point I didn't care and pretty much gave up. Nothing was really salvageable from this attempt.
As you can see from my above attempts, color and formula play a huge role in whether the stamper will work. Dark on light definitely works best; like with all nail art (but I thought I would try anyway). And definitely the slower the formula is to dry the better. But my biggest disappointment was the size of the designs.
It's best to have plenty of cotton pads and nail polisher remover on hand and to work on a couple layers of paper towel as things get messy when it comes time to do some scraping.
After the fourth attempt I gave up for the night and even though I don't feel I had any real success I want to try again with smaller designs and a better color plan in mind. With all the other nail arts I've tried I have practiced on fake nails beforehand but for some reason I thought this would be a piece a cake and didn't bother. There is definitely some skill involved in the rolling of the stamper (and how the excess polish is scraped off) that I didn't anticipate but like with all nail art I think it is something that can be easily developed with practice on a down day.
NPC has lots of Bundle Monster nail plates including more Halloween designs. Their nail plates sell for $4 each and if that is all you order their shipping is free (normally free with a purchase over $25).
***
Topic Links
* Get this Halloween Nail Stamp Plate from Nail Polish Canada
* Get this stamp plate from Bundle Monster