My Review
"You must remember that every irrational fear has some basis in the unconscious."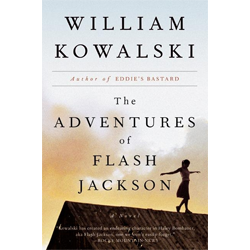 Who is Flash Jackson? Flash is the alter ego of 16 year old Haley Bombauer, a tomboy in search of her authentic self. The self she learns was there all along. With Flash Jackson around she doesn't have to face her fears or come to terms with her losses.
The Adventures of Flash Jackson is written from the perspective of a twenty something Haley. The nickname, Flash Jackson, stemmed from a game she played with her now deceased father in which they pretended to be stuntmen. Haley believed she was a "stuntman trapped in a female body".
The Magic of Flash
William Kowalski has written Haley's voice as educated, conversational, witty and without shame. I found myself reading her voice with a light southern twang even though the story takes place just outside the fictional town of Mannville, New York. Haley tells the reader that this is "a record of my seventeenth year," and she warns "if you're not interested in this sort of thing you better stop reading right now. I'm writing this for myself…" This kind of tongue in cheek candour is speckled throughout. The fact that her mouth sometimes moves faster than her thoughts is amusing despite the trouble she gets into or the hurt feelings she creates. She struggles to make the things and people around her bend to her will but once she becomes incapacitated she learns she really doesn't have the control she thinks she does.
During one of Haley's tomboy adventures she breaks her leg in three places causing her to be bed-ridden. Through her forced immobilization she begins to learn new things about the people in her life that ultimately leads to the realization of her own character and the development of the woman she is to become.
Haley is accompanied through her year of reminiscing by her slightly neurotic, lonely mother; her pot-growing, Mennonite grandmother; her schizophrenic friend Frank; her guidance counsellor, neighbour Ms. Powell and a host of wildlife, domesticated and otherwise.
I was skeptical from the beginning that Kowalski could pull off a feminine character (my bias) but quickly forgot about the writer's gender as I became absorbed in Haley's life and surroundings. Especially when she went off to live with her grandmother in the forest, secluded from people and without what we know as the bare necessities: electricity, running water, and indoor toilet.
While with her grandmother Haley learns many things about the natural arts and an appreciation for silence. When you're quiet for long periods "it starts to seem normal, and you realize how much talking people do that isn't really necessary-talking for talking's sake, which never really hurt anybody but doesn't do any body a bit of good either".
In the beginning Haley tries to fight the laws of nature but succumbs due to wasted effort and little success. A good example would be bathing. She fought to keep some form of cleanliness but her daily toils prevented her so she gave in and developed an awareness of her new odor.
"Sometimes I wondered what the world would be like if no one took showers. We would know people by our noses first and by our intellect second."
I enjoyed Haley's insight into the simple things we take for granted, things we see everyday but don't pay much mention to, like FOR SALE signs. "You never could tell what a FOR SALE sign really meant when you saw one. It might mean We Hate It Here and We're Going Back to Where We Came From, or possibly There was a Terrible Divorce, or even as in this case, Everyone Here is Dead. It never just means For Sale."
I do not have many complaints about this book save one. The grandmother's dialogue is difficult and slowed down reading unnecessarily. "Den varom willst Du k no from ich?" I would have preferred a description of her dialect rather than trying to decipher her speech patterns.
Witchcraft has saturated the film and TV industry over the last few years. It seems to have become a fad in many instances and although it appears in this story it doesn't overwhelm or take anything away from the characters. The magic in "Flash Jackson" is more than a belief system. It's the everyday magic right in front of our eyes.
"There is such a thing as magic in the world, and if you don't know that, it's because you've decided not to know, not because you haven't seen it. You have seen it-all of us have seen it. Maybe you just didn't believe it because it scared you. Entirely possible. Nobody's fault."
The Adventures of Flash Jackson is a complete book but I want to know what adventures Haley Bombauer survived after her 17th year. I hope Kowalski will consider serializing Haley. I'm sure you will too.
This book review was first published at Linear Reflections in 2005.