Ukulele Acquisition Syndrome
In June of 2019 my husband came home with a very cool looking neon green alien head ukulele. It was perfect timing. I had been reading about how learning to play an instrument is healthy for the brain. I promised myself immediately that I would learn to play it.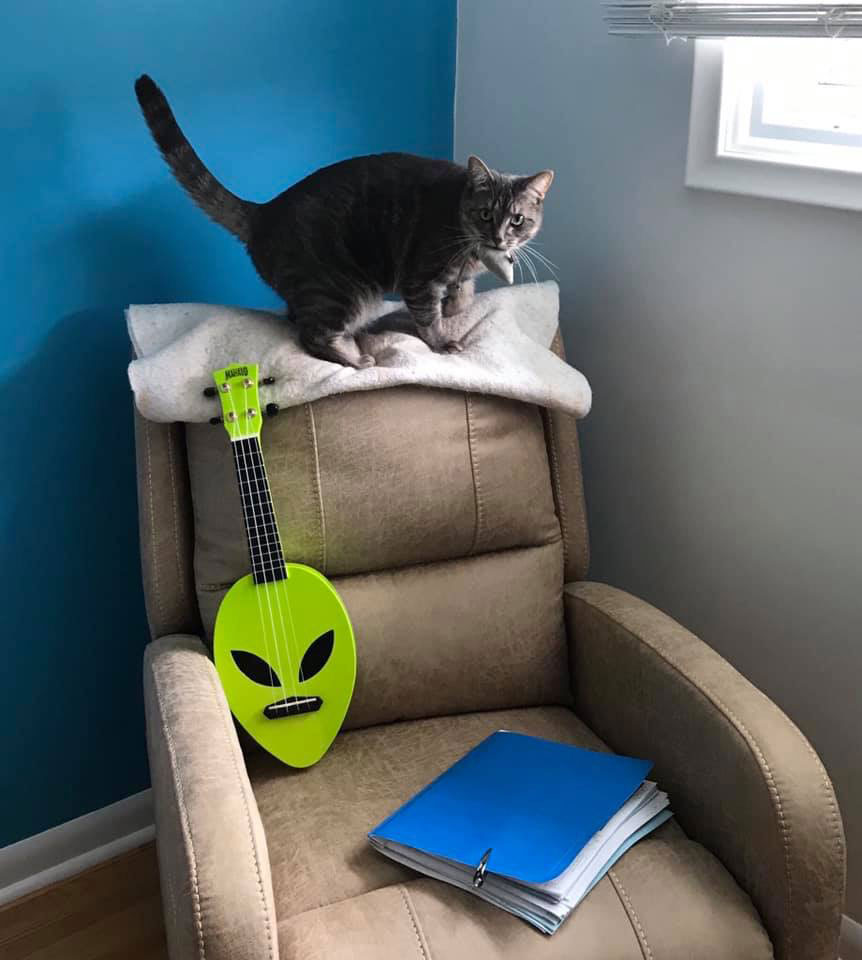 Why did I want to play it? Not because of my love of making music, or even listening to music. I buy maybe 2 or 3 new songs for my phone a year. Most of my music collection is from the 80s and 90s. Did I mention, I am tone deaf and can't carry a tune?
I wanted to learn because of all the memorization aspects involved. Learning chord names, finger placement for chords, lyrics (I said I would come back to this), strumming, and finger picking.
Playing a ukulele involves a bunch of my fave neural pathway creation activities. There is the visual involvement, using both hands (each doing something completely different), and lots of repetition. I didn't realize until I started that singing and playing the uke would bring a whole new set of complications.
During this past year I have increased my memory, ten fold. I have increased my hand strength, my coordination, and my multi-tasking ability. Playing chords with one hand, strumming or picking with the other, holding an instrument to my body (I don't use a strap), reading music (not really, reading tab, it's easier), reading lyrics, reading ahead to chords, and yes, sometimes singing.
In the beginning, I memorized little songs like Mary Had a Little Lamb, Twinkle, Twinkle, and 12 Bar Blues. As soon as I stop playing them for a few months they seemed to disappear from my memory bank. When I do come back to them though, it is easier to learn them again. These days I am working on mesmerizing longer pieces including fingerstyle songs.
It's challenging but I love it. It's amazes me that I have not given up in frustration. I think it is because I went into this knowing it was going to be hard. I have no musical talent along with memory issues and reflex issues. And I didn't have a clue what I was doing. Playing the ukulele has given me new skills as well as joy and relaxation.
Recently I participated in a #100daysofukulelesongs challenge online via Facebook/Instagram (follow me). You can see 100 videos of me playing the ukulele and a lot of bad singing. But you will also see improvement. Maybe not daily but from week to week, month to month there is definitely improvement. I did it and I didn't even notice at the time.
Unlike juggling I will continue on with my Ukulele journey as a daily practice. There is always a new chord, strum, or song to learn and many ways to do it. With so many options, it feels attainable and my brain loves it.
If you want to learn to play the Ukulele I highly recommend the following channels on YouTube:
These four teachers are a wealth of knowledge and they will expose you to even more great people.
If you want a starter ukulele then I recommend the Enya Nova. It comes in a few colours (I have black) and is reasonably priced. Best of all, it's a great size and is meant to be dragged around with you wherever you go.
Get a Ukulele from Amazon.ca or Amazon.com.
Exercise Your Brain
My point is, after over 2000 words, no matter what your physical capacity or age, you need to challenge yourself. Exercise your brain beyond a cross word puzzle, or Sudoku, or a video game. Most importantly, you need to give yourself more than a few days, weeks, or months to learn something new. Get over your frustration, awkwardness, insecurity, perfectionism and enjoy the journey of the new task.
Never stop exercising your brain.